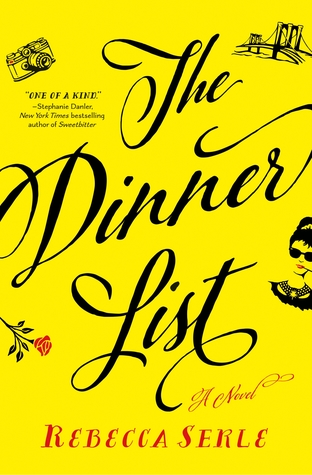 At one point or another, we've all been asked to name five people, living or dead, with whom we'd like to have dinner. Why do we choose the people we do? And what if that dinner was to actually happen? These are the questions Rebecca Serle contends within her utterly captivating novel, The Dinner List, a story imbued with the same delightful magical realism as One Day,and the life-changing romance of Me Before You.
When Sabrina arrives at her thirtieth birthday dinner she finds at the table not just her best friend, but also three significant people from her past, and well, Audrey Hepburn. As the appetizers are served, wine poured, and dinner table conversation begins, it becomes clear that there's a reason these six people have been gathered together.
The Dinner List by Rebecca Serle was another one of my picks through my Book of the Month subscription. (Again, awesome books so if you love reading check out bookofthemonth.com) Not only is Sabrina forced to look at her list of whom she would choose to have dinner with, but it makes the reader reflect as well. It comes down to that age-old question of, "If you could have dinner with any 5 people, living or dead, who would you pick?"
As the story unfolds, we begin to see why Sabrina chose the people she did and the impact they have had on her life. However, the format of the novel flashes between the dinner Sabrina is at for her thirtieth birthday and the evolution of her relationship with one of the guests at the table. While the focus is on the one relationship in particular, it also demonstrates how much other people impact our decisions in life and the way we treat others around us.
There were many points in the novel where there was a line or a scene that really resonated with me as Sabrina would look around the table and at the people she had put on her list. However, she also realizes that the time she has with her dinner guests is finite and that there is a purpose for them all coming together at this point in her life: "Time is closing in on us, and I need to be honest about the things in me that need to be brought to the surface."
How often is it in our lives that we know there is something we need to say, but we are too afraid of what might happen if we ask the question or make that statement? Sabrina though, through the course of the dinner and thinking about her relationships with each of the people gathered around her, knows that she must confront the issues that she is faced with. She makes difficult choices and says the words that usually seem to stick in our throats in order for her to move forward. Sabrina must face the events that have happened in her life in order for her to finally gain perspective of where she was, where she's at, and where she wants to go.
I currently find myself to be in a rather reflective place of my own life, and I think that's part of the reason why The Dinner List resonated so much with me. Like Sabrina, I have wondered about the relationships in my life and the impact they have had. I have also wondered about choices I have made and how my life could have been different if I had chosen one way and not the other. I had actually started to read this book a few months ago, but it didn't seem to capture my attention like it did this time around. I am a firm believer that books will find us when we are ready for them, or when we need them most. I wasn't ready for The Dinner List before, but I found that I thoroughly enjoyed the novel and loved the introspective nature of the dinner.
I shall leave you, dear readers, with a parting thought from the author, Rebecca Serle: "And finally, to any woman who has ever felt betrayed by fate or love. Hang in there. This isn't the end of your story."